Walk Cycle Automation
The walk cycle plug-in "Walk-A-Way" will be very helpful for animators when working on walk cycles and it will be a valuable tool in the process of creating convincing walk sequences in a fast and simple way.
Works on any rigged skeleton
The animator will be able to use a rigged skeleton in Maya and connect it to the plug-in in a few easy steps. Walk-A-Way has a user interface where the animator can adjust e.g. step-length, step-height, hip rotation, arm swing etc. Given a set of input parameters, the plug-in will calculate the required values for each phase in the walk cycle and set key frames for the walk cycle sequence.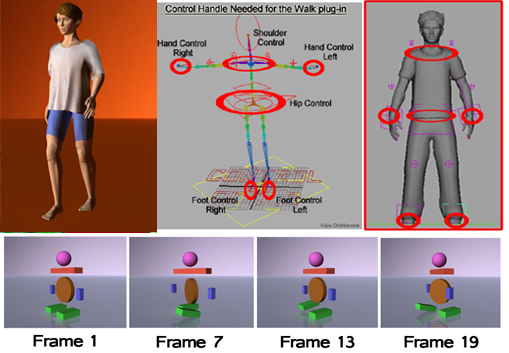 Plug-in name: Walk-A-Way
For: Autodesk Maya
Written in language: Python
Created: June 05 2009
For more information about Walk-A-Way, please take a look at the published thesis:
* Thesis publication of Walk-A-Way